holy shiitake, I won the bon appétit blended burger contest!
Earlier this year during COVID-19 quarantine, I stumbled upon the Blended Burger Contest, sponsored by the Mushroom Council and Bon Appétit Magazine. Since I love to cook, and I am crazy about mushrooms, I knew right away that I could make an AMAZING burger highlighting everyone's favorite fungi. And as it turns out, my sweet + spicy Chili Maple Brunch Burger ended up taking the top prize, and I could not be more excited!
Check out the video of professional Chef Chris Morocco making my blended burger creation, along with the 2 other top 3 finalists at BonAppétit.com. I am beyond excited to win this year's Blended Burger Contest! Thanks so much to the Mushroom Council, Bon Appétit and Chef Chris Morroco!
Read more in this feature article on AJC.com (Atlanta Journal Constitution), by Bob Townsend.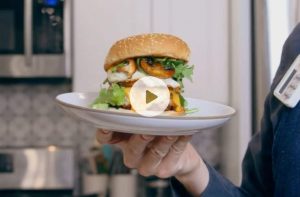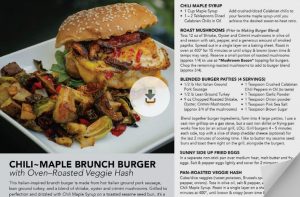 Chili Maple Brunch Burger Recipe
Recipe by Lauren Holley, @graphiknation
This Italian-inspired brunch burger is made from hot Italian ground pork sausage, lean ground turkey, and a blend of shitake, oyster and crimini mushrooms. Grilled to perfection and drizzled with Chili Maple Syrup on a toasted sesame seed bun, it's a sweet + spicy explosion of flavor. Suggested toppings are melted sharp cheddar cheese, fresh arugula, "Mushroom Bacon" and a sunny side up egg. I also like to serve alongside crispy pan-roasted veggie hash of potatoes, Brussels sprouts, bell peppers and onions.
Step 1:
Chili Maple Syrup
1 Cup Maple Syrup
1 – 2 Tablepoons Diced Calabrian Chilis in Oil (to taste)
Add crushed/diced Calabrian chilis to your favorite maple syrup until you achieve the desired sweet-to-heat ratio.
Step 2:
Roast Mushrooms (Prior to Making Burger Blend)
Toss 12 oz of Shitake, Oyster and Crimini mushrooms in olive oil and season with salt, pepper, and a generous amount of smoked paprika. Spread out in a single layer on a baking sheet. Roast in oven at 400º for 15 minutes or until crispy & brown (oven time & temps may vary).
IMPORTANT: Reserve a small portion of roasted mushrooms (approx 1/4) to use as "Mushroom Bacon" topping for burgers.
Chop the remaining roasted mushrooms to add to burger blend (approx 3/4).
Step 3:
blended Burger Patties (4 Servings)
1/2 lb Hot Italian Ground Pork Sausage
1/2 lb Lean Ground Turkey
1 Teaspoon Crushed Calabrian Chili Peppers in Oil (to taste)
1 Teaspoon Garlic Powder
1 Teaspoon Onion Powder
1 Teaspoon Pink Sea Salt
1 Teaspoon Brown Sugar
9 oz Chopped Roasted Shitake, Oyster, Crimini Mushrooms (approx 3/4 of the roasted mushrooms)
Blend together burger ingredients, form into 4 large patties. I use a cast iron grilltop on a gas stove, but a cast iron skillet or frying pan works fine too (or an actual grill, LOL). Grill burgers 4 – 5 minutes each side, top with a slice of sharp cheddar cheese (optional) for the last 2 minutes of cooking time. I like to butter my sesame seed buns and toast them right on the grill, alongside the burgers.
Step 4:
Sunny Side Up Fried eggs
In a separate non-stick pan over medium heat, melt butter and fry eggs. Salt & pepper eggs lightly and cover for 2 minutes.
Step 5:
Pan–Roasted Veggie Hash
Cube/dice veggies (russet potatoes, Brussels sprouts, red bell pepper, onions). Toss in olive oil, salt & pepper, and drizzle with Chili Maple Syrup. Roast in a single layer on a sheet pan for 25 – 30 minutes at 400º, until brown & crispy (oven time & temps may vary).
Plate burgers atop buttered and toasted sesame seed buns with fresh arugula, sunny side up egg, "Mushroom Bacon" and a generous drizzle of Chili Maple Syrup. Serve Veggie Hash on the side, which you can also drizzle with some of that sensational Chili Maple Syrup for an extra flavor kick!
#blendedburger #blendedburgercontest